We hope that you will find this Information on climbing Mount Kilimanjaro useful for reference when preparing for your trek.
The magnificent vistas of the volcanic slopes of Kilimanjaro present the highest freestanding mountain in the world, but its unique topographical location means that an ascent of its summit can be done by foot!
Mount Kilimanjaro is situated inside the National Park in Tanzania located at 5 degrees South, 36 degrees East, 5,895 metres above sea level, crowned by an eternal snow cap. It is the highest mountain in Africa and the tallest freestanding mountain on earth.
It is a mountain where you can hike for more than 90 kilometres, gain 4,000 metres in altitude, traverse rainforest, moorland, alpine desert, snow fields and ice cliffs virtually on the Equator! This is a truly unforgettable and fascinating adventure.
Altitude Sickness
Altitude Sickness commonly affects people at exceptionally high altitudes, especially those who are not accustomed to high altitude conditions. Most of all climbers climbing Kilimanjaro will suffer to some extent; the symptoms include headaches, nausea, rapid pulse, insomnia, swelling of hands and feet and exhaustion. Therefore familiarise yourself with this condition and take preventive care. There are medications available that claim to prevent or relieve the symptoms of acute mountain sickness (e.g. Diamox). We suggest you contact your doctor for more advice.
Baggage Allowance on the Trek
This is currently restricted to 15kg per person and should be strictly adhered to. Additional baggage can be left at your hotel in Moshi. The porters not only transport your gear and supplies up and down the mountain but also arrive at every campsite before you.
Climate
Lying just south of the equator Kilimanjaro is affected by the passage of the Intertropical Convergence Zone, which brings with it the main rainy periods. The highest rainfall occurs between mid March and early May, and slightly less between the beginning of November and late December. Maximum rainfall occurs in the forest belt and on the south side of the mountain. Rain and, higher up, snow, can be encountered at any time of year – even in the driest periods (January, February and September).
Normally the drier seasons are associated with clear, dry weather, which can last for weeks on end. The best weather is generally encountered in the mornings, and rainfall, if any, tends to come in mid-afternoon. After long periods of dry weather some of the higher streams dry up. Temperatures vary considerably with height and time of day. On the plains surrounding Kilimanjaro the average temperature is about 30°C. At 3,000 metres frosts can be encountered at night while day time temperatures range from 5°C to 15°C. Night time temperatures on the summit can be well below freezing ranging from minus 10°C to minus 20°C.
Emergency and Evacuation
One of the main roles of your guides is to make sure that you are safe and in the eventuality that you do have to go down, the whole team is on hand to make sure that this is done quickly and efficiently. Importantly they will be able to discern whether it is necessary for you to go down or if resting at the same altitude is safe.
A key aspect of our climbs is to try, wherever possible, to make sure that a guest can walk out safely by themselves. Our guides will decide if you need to turn around and their decision is final. Please respect this.
Fitness
Kilimanjaro is Africa's highest mountain and any attempt to reach its summit successfully requires a level of physical fitness. It is important therefore to train properly prior to any attempt, building up stamina and fitness over a number of months. Hill walking, cycling and swimming are excellent forms of exercise and will help prepare your body for the physical exertions required during the 6-day hike.
Any climbers who suffer from any cardiac or pulmonary problems should be cautious and should not attempt to climb the mountain unless they have consulted their physician.
It is strongly recommended that a physical fitness program be followed to prepare you physically for the mountain.
Food during the Trek
Food throughout the trek is generally excellent and very well prepared. Breakfast tends to be porridge, followed by eggs and lunch consists generally of sandwiches,
cheese and fruit or a hot meal. A meat dish is always provided for the evening meal (chicken or beef for example), which is accompanied by vegetables and potato/rice. It is also advised to take plenty of energy bars.
Insurance
Please note this trek reaches altitude of over 4,000 metres. For this reason, most insurance companies will insist on vetting your age and health prior to agreeing to cover you by their insurance. We would recommend that as a precautionary measure you contact your insurance company to ensure they will include cover for this type of holiday.
Photography
Your camera will be used in severe cold and should be protected against freezing whilst not in use. A suitable pouch for the camera, to ensure that it does not freeze on the final ascent is a good idea, although keeping your equipment in interior pockets of your clothing should be sufficient.
Pre-Climb Briefing
The pre climb briefing is an opportunity to meet your guides and check that you have everything you need for the climb and answer any outstanding questions. You normally do the pre climb briefing at least a day before you set off. That is not always possible if you arrive on a night flight and climb the next day (we recommend you give yourself at least a day to relax and get over your flight, and most likely the stress of leaving work!) in which case we brief you on the morning.
In the briefing you will be told your exact crew numbers and make up. Your head guide is your number one point of contact, but you will also come to recognise and interact mostly with your assistant guides and camp crew.


Considerations
• Safety on the trail is excellent, however it is wise to try and bring a lockable holdall and a lockable daypack.
• The correct equipment and clothing is critical in the prevention of Hypothermia. Do not allow your clothing to get wet from either rain or perspiration. The treatment of hypothermia is relatively simple, get the patient into a sheltered area as quickly as possible and remove wet clothes and place the victim inside two or three sleeping bags, preferably with another person to help heat them.
• It is strongly recommended to use a 20+ sun protection cream at lower altitudes, and a total block cream above an altitude of 3,000 metres.
• It is also important to wear dark sunglasses preferably with side panels above altitude of 4,000 metres in daytime and essential when walking through snow or ice. Snow blindness can be very painful, and will require your eyes to be bandaged for at least 24 hours.
What to Pack for your Kilimanjaro Climb
Remember that you will be on the mountain for at least 5-6 days. You need to take enough clothing, especially socks to last this period. Due to frequent rainfalls as well as numerous streams on the routes, it is advisable to pack items individually in your bag. These items should be wrapped in plastic to prevent them from getting wet in case of the rain.
You will require thermal hiking socks, gloves, warm head protection, raincoat, sunglasses, and sun protection cream. Do not forget your hiking boots/running shoes, and very importantly a walking stick pole. One of the most essential items of clothing is an outer jacket, it should be able to keep you warm, protect you at temperatures as low as minus 25 degrees and to keep the wind out.
Try to avoid tight fitting clothes as this will hamper circulation. Due to low altitude and physical exertion, cold is a very serious obstacle when attempting to climb Kilimanjaro.
Your Checklist

• Quality 3/4 season sleeping bag
• Walking boots plus training shoes for around camp (it is advised that your walking boots are broken in before undertaking any sort of trek)
• A walking stick/pole
• Head torch and spare batteries – important for your summit climb
• A pair of warm trousers
• Light cotton trousers and shorts
• Summer shirts; long sleeves are necessary as well as short sleeves, in case you get sunburnt and have to cover up your arms
• A fleece and Gore-Tex jacket
• Skiing underwear or thermal 'long johns' and top
• A good waterproof anorak
• Gloves and scarf
• Plenty of socks, cotton, thick and thin
• Sunhat and beanie (warm hat)
• Sun goggles or glasses
• Lip sun cream
• A good high factor sun block for protection against the sun
• Camera and plenty of film
• Binoculars
• A good quality torch and batteries
• Basic first aid kit (plasters; lint; cotton wool; elastic bandage; antiseptic liquid
or cream; blister kit; throat lozenges) • Personal medicines, clearly labelled
• Gel activated hand warmers
• High-energy bars
• Salt tablets
• Plastic bags
• A towel and wash bag
• Toilet paper
• Large water bottle, for drinking on the trek (two x 2 litres)
• Large rucksacks are not necessary but a small shoulder bag or backpack for carrying your camera, water bottle etc, is essential
What to pack in your day pack
• Waterproofs
• Camera/video
• Water bottles (bottled water can be provided at the trail head, but if you want to you can always fill up at the lodge)
• Poncho/umbrella (dependant on season)
• Hat
• Sunglasses
• Extra snacks if you have them
• First aid kit, if you have one
Note: On all days try to keep your day sack as light as possible. Your porters have been hired to carry most of your gear and carrying extra gear will only make you more tired and stress your body out more, making it harder for your body to deal with the altitude.
The Trek
After transferring to the gate your guide will head off to fill in the necessary paper work whilst the mountain authorities and your crew arrange all bags into correct weights. All baggage is normally weighed. When all the formalities are complete you set off with your guides. Your porters will catch you up later on, pass you and set up camp by the time you arrive.
Day to day routine
Each evening and morning your head guide will brief you in your mess tent. This briefing will include:
• How the day went, how your pace was and how to improve your performance
• What lies ahead for the next day
• What time tea and hot water will be brought to your tent
• What time you need to get up
• Breakfast times
• What to include in tomorrow's day sack
• Departure time from camp
• Where lunch will be (in next camp or en route)
• Approximate arrival time/walking times
• It is also a good opportunity for
the guide to see how everyone is eating and feeling. Be very open and straightforward so that the guide can assess you. Good feedback is essential for the guides to be able to monitor your progress.
As a General Guideline
• Tea and hot water at 06H30
• Breakfast at 07H00
• Briefing at 07H30
• Depart at 08H00
• Lunch: depends on whether lunch is en route or in camp (between 12H00-13H00).
• Afternoon tea between 15H00-16H00
• Evening tea at 18H00
• Dinner at 19H00
• Evening briefing at 19H30
• Most people tend to go to bed after dinner, but you can stay up writing trip reports or even playing cards
The Summit Attempt
For most routes the final summit bid is a little different. Here are the key stages and what to expect:
At the evening briefing your head guide will go over the day's events and also how the summit section will be tackled. Your guides will have assessed your performance over the previous days and if necessary, may want to start some members of your group slightly earlier – this is especially relevant in large groups. The starting time for all routes that ascend via Stella point (Machame, Lemosho, Umbwe) or Gilman's (Marangu or Rongai) will always be at night. Hence, you may start as early as 23H00 or possibly as late as 01H00 but your guide will decide this. The target is to try to reach the summit by sunrise as you have a long downhill afterwards as well.
Getting to the rim of Kibo: (usually takes approx. six hours) it can sometimes be shorter or even significantly longer. This is one place where different abilities can often show, but not to worry. If the group needs to split up then the time to do so will be determined by the head guide and guides will be assigned to each group. This is the hardest part of your entire trek. It is often mental stamina that counts for a huge amount here, and motivating your colleagues is essential. Your guides will also be motivating you and checking you every so often. Follow the methodical steps of your guide to maximise grip and maintain a slow steady momentum.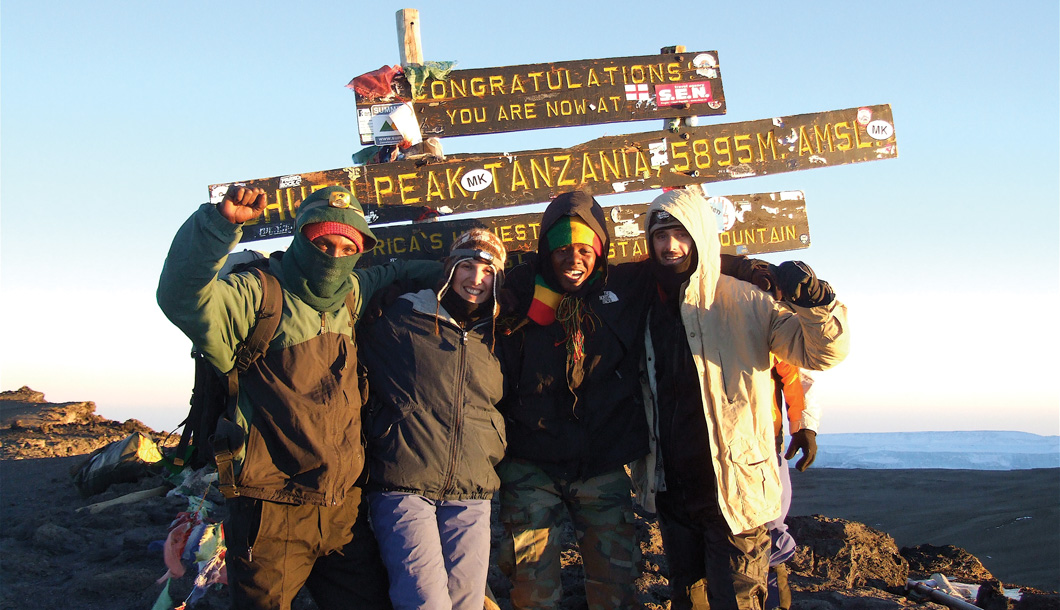 Rim To The Summit
On the ascents via Stella point it is still a further hour or so to the summit (Uhuru peak). Some people are happy to turn back here, after all you are at the top of Kilimanjaro, but most likely you will persevere to the summit.
From Gilman's it is around 2 hours to Uhuru peak, which is possibly why more people fail to reach Uhuru peak on the Marangu and Rongai routes as the final distance to the summit is a little daunting.
Toilet and Washing Facilities
One of the porters will bring a bowl of hot water to you in the morning and again in the late afternoon when you have finished your days trekking. Toilet facilities are available, however, the further up the mountain the more basic they become.
Trekking Permits
Our local agents in Tanzania will obtain trekking permits on your behalf and the price of these is included in the cost of your holiday.
Trekking Team
This will normally consist of enough porters to carry all equipment and client duffle bags, a main guide, an assistant guide, a cook and the cook's assistant. Number of porters depends on the size of the group. It is customary in Africa to tip the team,
Water and Drinks during the Trek
The stream water high on the mountain has been tested and is found to be fit for drinking. However, to be on the safe side, use water purification tablets or ask your guide to boil the water for you. This can be done in the evenings then you can fill your flasks in the morning ready for the next part of the climb. Use a thermal flask for your water on the summit night, as other water bottles might freeze.
Additionally, bottled drinks (including beer) can be obtained at certain places en-route, however you are encouraged not to leave any plastic or glass on the trail but instead give it to your trekking crew who will dispose of it back in Moshi.